QUICK SEARCH
What Tickets do You Need?
Broadway Events in Ashburn:
Broadway Buzz
Broadway.com #LiveatFive with Tuc Watkins of The Boys in the Band
Tuc Watkins stops by Broadway.com HQ to chat about The Boys in the Band and more with Paul Wontorek.
---
Odds & Ends: Great Comet Alum Gelsey Bell Set for True-Crime Concert Angelmakers & More
Here's a quick roundup of stories you might have missed today.

Great Comet Alum Gelsey Bell Set for True-Crime Concert Angelmakers
Gelsey Bell, the power-voiced alum of Broadway's Natasha, Pierre and the Great Comet of 1812, will take part in composer Molly Rice's upcoming concert Angelmakers: Songs for Female Serial Killers at Feinstein's/54 Below. The event, which will also feature the vocals of Viva DeConcini, is set to take place on August 15 at 9:30pm. Angelmakers explores the moments and motives of female serial killers throughout history, from the 1500's to the present. Rusty Thelin is the concert's director.

Bartlett Sher & Renée Fleming's Opera Work to Appear at Met's Summer HD Festival
The Metropolitan Opera has announced ten free screenings of acclaimed past performances as part of its Summer HD Festival, taking place on Lincoln Center Plaza From August 24 through September 3. The Met offers 3,000 free seats for each screening with no tickets required. Offerings of interest to Broadway fans will include Roméo et Juliette, directed by Tony winner Bartlett Sher (My Fair Lady), set for August 25 at 8:00pm, and Der Rosenkavalier, starring Tony nominee and opera legend Renée Fleming (Carousel), taking ...
---
Gary Beach, Tony-Winning Star of The Producers & Beauty and the Beast, Dies at 70
Tony-winning actor Gary Beach, whose multifaceted performances ranged from The Producers to La Cage aux Folles, died on July 17 in Palm Springs, California at the age of 70. His agent Steven Unger confirmed his death. No cause was given.

An only child born on October 10, 1947 and raised in Alexandria VA, Beach graduated from North Carolina School of the Arts. One of Broadway's most beloved comic actors, he was best known for his show-stealing performance as Roger DeBris in Mel Brooks' The Producers, for which he won Tony, Drama Desk and Outer Critics Circle Awards.

The Baruch Frankel Routh Viertel Group, producers of The Producers, said, "Gary Beach, an actor of consummate skill and artistry, was a glorious human being; a gifted, generous and incredibly funny actor whose presence in a rehearsal room or on the stage lifted everyone's spirit and inspired them to be the best they could be. His joyous, Tony Award-winning performance as Roger DeBris will remain forever in our minds and hearts as the personification of the joyous spirit of Mel Brooks' The Producers. We, along with all who knew him, are devastated by his passing and will remember him always."

Also on ...
---
Marc Kudisch, Caitlin Houlahan, Colton Ryan & More Set for Girl From the North Country at the Public
Off-Broadway's Public Theater has announced a talented lineup of stars set to lead the U.S. premiere of Conor McPherson and Bob Dylan's Girl From the North Country. The previously announced production—a transfer from London's Old Vic and the West End—is written and directed by McPherson and features the music and lyrics of Dylan. Previews will begin on September 11 with an opening set for October 1.

"I just couldn't be more thrilled with this amazing company," said McPherson. "We're all so looking forward to presenting Girl From the North Country to New York audiences at The Public, just a few blocks from where Bob Dylan began his journey into legend."

The principal cast will feature three-time Tony nominee Marc Kudisch (Hand to God) as Mr. Burke, Tony nominee Mare Winningham (Casa Valentina) as Elizabeth Laine, Tony nominee Stephen Bogardus (Bright Star) as Nick Laine, Tony nominee David Pittu (LoveMusik) as Reverend Marlowe, Caitlin Houlahan (Waitress) as Kate Draper, Colton Ryan (Dear Evan Hansen), Todd Almond (How to Transcend a Happy Marriage) as Elias Burke, Jeannette Bayardelle (The Color Purple) as Mrs. Neilson, Sydney James Harcourt (Hamilton) as Joe Scott, Robert Joy (Side Show) as Dr. Walker, Luba Mason (Pretty ...
---
Diana Rigg to Exit Broadway Revival of My Fair Lady
Diana Rigg, the iconic actress who earned a 2018 Tony nomination for her turn as Mrs. Higgins in My Fair Lady, will play her final performance in Lincoln Center Theater's acclaimed revival on September 9. The announcement of a replacement is forthcoming.

My Fair Lady marked a return to Broadway for Rigg after more than 20 years. A Tony winner for Medea, she won an Emmy for Rebecca and earned a recent nomination for Game of Thrones.

The principal cast of My Fair Lady also includes 2018 Tony nominees Lauren Ambrose as Eliza Doolittle, Harry Hadden-Paton as Professor Henry Higgins and Norbert Leo Butz as Alfred P. Doolittle, with Allan Corduner as Colonel Pickering, Linda Mugleston as Mrs. Pearce, Jordan Donica as Freddy Eynsford-Hill and Clarke Thorell as Zoltan Karpathy. Kerstin Anderson plays the role of Eliza Doolittle at Sunday matinée performances.

Tony winner Bartlett Sher directs and Tony winner Christopher Gattelli choreographs My Fair Lady, which began previews on March 15 and officially opened on April 19.


---
Tony Winner Bruce Springsteen's Broadway Hit Springsteen on Broadway to Arrive on Netflix
Springsteen on Broadway, the mega-hit Broadway concert engagement that netted a Special 2018 Tony Award for iconic music maker Bruce Springsteen, will launch globally on Netflix on December 15—which will also mark the final night of the show's sold-out 236-performance run at the Walter Kerr Theatre on Broadway.

Springsteen's acclaimed solo show began previews on October 3, 2017 and officially opened October 12. The show was extended three times after its initial eight-week run.

Springsteen's recording career spans over 40 years, beginning with 1973's "Greetings from Asbury Park, NJ." Among his many additional accolades, he has garnered 20 Grammys, an Oscar, an induction into the Rock & Roll Hall of Fame and a Kennedy Center Honor.
---
Watch Fabulous, Fun Clips from Head Over Heels, Featuring the Songs of The Go-Go's
Get a first look at the new musical comedy Head Over Heels!
---
Heaven Is a Place on Broadway! Get a First Look of Head Over Heels
After its successful run in San Francisco, Head Over Heels is now on the Great White Way, and we're giving you a first look at the show's Broadway production. Featuring the hit songs of The Go-Go's, Head Over Heels tells Elizabethan love story turned on its head. The new musical, directed by Michael Mayer, is currently in previews at the Hudson Theatre and is set to open on July 26. Check out the photos to get a taste of what to expect when you visit Arcadia.
---
Adam Gwon's Ordinary Days to Receive First Major Revival with Keen Company; NY Premiere from Chisa Hutchinson Also on Tap
Off-Broadway's Keen Company has announced an exciting pair of productions to fill out its 2018-2019 season at The Clurman Theatre at Theatre Row. A revival from acclaimed composer Adam Gwon and a new play by emerging playwright Chisa Hutchinson bookend the season of the celebrated nonprofit theater company.

Beginning the season will be Gwon's 2009 musical Ordinary Days, receiving its first New York revival under the direction of Keen Company Artistic Director Jonathan Silverstein. Ordinary Days tells the story of four young New Yorkers whose lives intersect in unexpected ways as they search for success, happiness and love. The production will begin previews on October 2, 2018 with an opening set for October 17, concluding its limited engagement on November 17.

The season will conclude with the New York premiere of Hutchinson's Surely Goodness and Mercy, directed by Jessi D. Hill. The play follows an exceptional boy living a troubled life in Newark, NJ who does a good deed for an often unnoticed person. Previews will begin on February 27, 2019 with an opening night scheduled for March 13. The production will play a limited run through April 14.

Casting and additional creatives for both Keen Company productions will be ...
---
Watch the Avenue Q Family Celebrate 15 Years with a Charming Performance on Today
"Everything in life is only for now," says the friends and neighbors of the delightfully naughty Avenue Q. That mantra might hold true in some cases, but it is hard to believe it applies to this Tony-winning hit, which marks its 15th anniversary this month. The cast of the smash musical, currently playing to crowds nightly at off-Broadway's New World Stages, took to Today on July 18 to ring in their milestone with a special a cappella tune crafted specifically for the show's birthday. Watch Princeton, Kate Monster and the whole gang below—and don't miss your chance to revisit the fan-favorite show again soon.
---
Odds & Ends: Sting to Star in Toronto Premiere of The Last Ship & More
Here's a quick roundup of stories you might have missed today.

Sting to Star in Toronto Premiere of The Last Ship
Legendary music maker Sting, who earned a 2015 Tony nomination for his score of The Last Ship, is set to star in the Toronto premiere production of that musical next year, according to Canadian publication The Star. Sting will play the role of Jackie White, which he first portrayed in a replacement gig of the Broadway run. The original musical featuring a book by Tony winners John Logan and Brian Yorkey centers on the demise of the shipbuilding industry. Lorne Campbell will direct the Toronto staging, set to run from February 9 through March 24, 2019 at the Princess of Wales Theatre.

Claybourne Elder & Steffanie Leigh Set for Passion at D.C.'s Signature
A pair of talented Broadway alums will sing the Tony-winning music of Stephen Sondheim in a new production of Passion at Signature Theatre in Arlington, VA later this summer. Claybourne Elder (Sunday in the Park with George) and former Broadway.com vlogger Steffanie Leigh (War Paint) have signed on to play Giorgio and Clara, respectively, joining the previously announced Natascia Diaz (Encores! Grand Hotel ...
---
All He Cares About Is Love! John O'Hurley Will Return to Chicago on Broadway
John O'Hurley is bringing his razzle-dazzle factor back to Broadway! The stage-and-screen star will return to the Tony-winning Broadway revival of Kander & Ebb's Chicago as Billy Flynn beginning on July 23, replacing Tom Hewitt, who will play his final performance on July 22.

O'Hurley's return run will mark his fifth main-stem engagement in Chicago, in addition to having appeared on tour. On-screen, O'Hurley is known for his turn as J. Peterman on the Emmy-winning sitcom Seinfeld.

The current Chicago cast is led by Michelle DeJean as Roxie Hart, Terra C. MacLeod as Velma Kelly, Evan Harrington as Amos Hart, Tony winner Cady Huffman as Matron "Mama" Morton and R. Lowe as Mary Sunshine. As previously announced, X Factor Israel television personality Shiri Maimon will make her Broadway debut as Roxie Hart on September 21.

Directed by Tony winner Walter Bobbie and choreographed by Tony winner Ann Reinking, Chicago features set design by John Lee Beatty, costume design by Tony winner William Ivey Long, lighting design by Tony winner Ken Billington and sound design by Scott Lehrer.
---
Andrew Rannells on the Voicemail from Kristin Chenoweth He Just Couldn't Delete
Andrew Rannells and Kristin Chenoweth are Broadway royalty in their own right. Rannells, a two-time Tony nominee for The Book of Mormon and Falsettos, is currently back on Broadway in The Boys in the Band. Chenoweth, a Tony winner for You're a Good Man, Charlie Brown who hit it big in Wicked, is kicking off her latest small-screen gig in Trial & Error. The duo appeared on Late Night with Seth Meyers on July 16 to look back on their shared history and talk about their current projects. Rannells remembered back to geeking out about a voicemail he received from Chenoweth congratulating him on his performance in Mormon, while Chenoweth raved about Rannells' work onstage. Rannells also looked back on being mistaken as Jonathan Groff by a performer on Drag Race. Watch the stars below and don't miss their latest projects on stage and screen.






---
Andrew Lloyd Webber's School of Rock Will Close on Broadway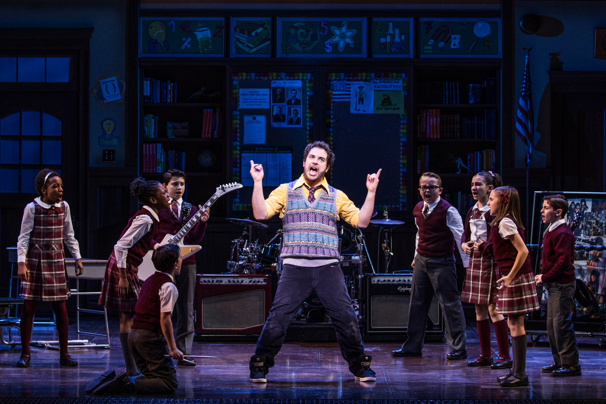 School of Rock, the hit musical based on the film of the same name, will play its final Broadway performance at the Winter Garden Theatre on January 20, 2019. The show began previews on November 9, 2015 and opened on December 5, 2015. By closing, School of Rock will have played 31 previews and 1,307 regular performances.

With a book by Julian Fellowes, music by Andrew Lloyd Webber and lyrics by Glenn Slater, School of Rock tells the story of wannabe rock star Dewey Finn, who poses as a substitute teacher at a prestigious prep school. When he discovers his students' musical talents, he enlists his fifth-graders to form a rock group and conquer the Battle of the Bands. Laurence Connor directs the production featuring choreography by JoAnn M. Hunter.

School of Rock's current adult cast includes Justin Collette as Dewey Finn, Conner John Gillooly as the Dewey alternate, Analisa Leaming as Principal Rosalie Mullins, Jonathan Gould as Ned and Lori Eve Marinacci as Patty, with a kids cast including John Allyn, Gabrielle Greene, Jim Kaplan, Ellie Kim, Colin Lauri, Cory Logan, Iggy Rosado and Zachary Zwelling.

As previously announced, joining the cast on July 30 will ...
---
Alexandra Silber & Broadway Friends to Read After Anatevka Off-Broadway for Release on Audible
Fiddler on the Roof alum Alexandra Silber will gather a group of talented stage friends for an upcoming literary and musical evening featuring her acclaimed Fiddler sequel novel After Anatevka. The event, to be held at off-Broadway's Minetta Lane Theatre on August 13 at 7:00pm, will be recorded for release on Audible.

The night will feature new songs written by Broadway composers inspired by excerpts from the novel. Joining Silber will be her former Fiddler co-star Samantha Massell and Fiddler lyricist Sheldon Harnick, along with Patrick Page, Santino Fontana, Jessica Fontana, Ellie Fishman and Ben Moss, who will serve as the evening's musical director.

Picking up where Fiddler on the Roof left off (based on the original stories by Sholem Aleichem), After Anatevka centers on Tevye's daughter Hodel and the adversities she faces in her extraordinary attempt to reunite with her politically imprisoned fiancé at a Siberian work camp.

Silber first presented a starry reading of After Anatevka at the 92nd Street Y in 2017.
---
They're Here! The Cast of Collective Rage: A Play in 5 Betties Meets the Press
Here comes Betty! The cast of Jen Silverman's upcoming off-Broadway play Collective Rage: A Play in 5 Betties met the press on July 16 ahead of its New York premiere run at the Lucille Lortel Theatre. Starring Broadway alums Ana Villafañe, Adina Verson, Dana Delany, Lea DeLaria and newcomer Chaunté Wayans as five different women named Betty, Collective Rage: A Play in 5 Betties tells the story of the women and how their different lives inspired one of them to stage a play about it. Mike Donahue directs the production, set to begin preview performances on August 16 with an opening slated for September 12. Check out the photo to get to know the Betties and be sure to buy tickets to meet them yourself!
---
See Rebecca Naomi Jones & More Celebrate Fire in Dreamland's Off-Broadway Opening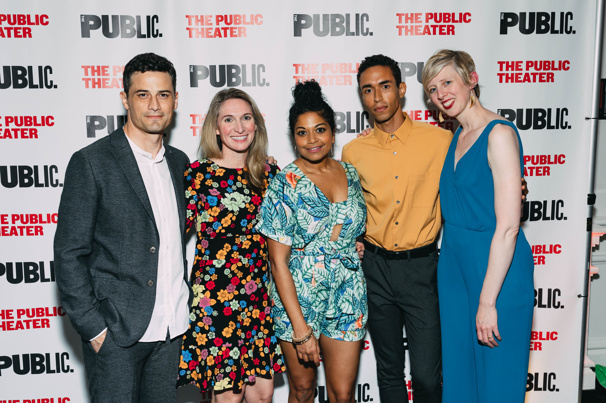 Rinne Groff's Fire in Dreamland, which explores Coney Island in the aftermath of 2012's Superstorm Sandy, opened at the Public Theater on July 17. The new play stars Rebecca Naomi Jones, Kyle Beltran and Enver Gjokaj. Check out the all-smiles cast and the starry guests who hit the red carpet at the off-Broadway opening.
---
Betsy Morgan, Jake Boyd & Joseph Taylor Will Return to Pie-Shop Sweeney Todd
The hit immersive off-Broadway staging of Stephen Sondheim and Hugh Wheeler's Sweeney Todd has announced the return of past cast members Betsy Morgan as Pirelli & Beggar Woman, Joseph Taylor as Tobias and Jake Boyd as Anthony. The three players will step back into the pie shop at the Barrow Street Theatre beginning on July 31, replacing Stacie Bono, Zachary Noah Piser and Billy Harrigan Tighe.

The current cast also includes Thom Sesma as Sweeney Todd, Sally Ann Triplett as Mrs. Lovett, Michael James Leslie as Judge Turpin, John Rapson as The Beadle and DeLaney Westfall as Johanna. The company also features Daniel Berryman, Laura Darrell, Matt Leisy, Liz Pearce, Monet Sabel, Drew Seigla and Haley Swindal.

Sweeney Todd features music and lyrics by Sondheim, a book by Wheeler from an adaptation by Christopher Bond and direction by Bill Buckhurst. The production features set and costume design by Simon Kenny, music supervision and arrangements by Benjamin Cox, music direction by Matt Aument, choreography by Georgina Lamb, lighting design by Amy Mae and sound design by Matt Stine.

As previously announced, Sweeney Todd will play its final performance on August 26.
---
Backstage at Summer with Ariana DeBose, Episode 2: Puppies & Pals
Summer star Ariana DeBose offers up more backstage shenanigans, takes us with her to Broadway Barks and has a surprise guest!
---
Tom Stoppard's The Hard Problem to Receive New York Premiere Directed by Jack O'Brien; New LCT3 Production Also Announced
Tom Stoppard's new play The Hard Problem will receive its New York premiere at Lincoln Center Theater's Mitzi E. Newhouse Theater this fall. Jack O'Brien, who helmed Stoppard's The Coast of Utopia and The Invention of Love (both with LCT), will direct The Hard Problem, set to begin off-Broadway performances on October 25 with an official opening night set for November 19.

Through the lens of a psychology research fellow, The Hard Problem dissects the science of consciousness. The play debuted in 2015 with London's National Theatre and first played the U.S. in 2016 at the Wilma Theatre in Philadelphia.

The cast will include Eshan Bay (Can You Forgive Her?), Adelaide Clemens (Hold On to Me Darling), Nina Grollman (The Iceman Cometh), Katie Beth Hall (The New 35), Tara Summers (Mercy Street), Karoline Xu (The Tens) and Chris O'Shea, with additional casting to be announced.

The Hard Problem will feature sets by David Rockwell, costumes by Catherine Zuber, lighting by Japhy Weideman, sound by Jill BC Du Boff and original music by Bob James. The work is scheduled to play a limited run through January 6, 2019.

Lincoln Center Theater has also announced Plot Points in Our Sexual Development ...