QUICK SEARCH
What Tickets do You Need?
Broadway Events in Ashburn:
Broadway Buzz
Laura Benanti Makes a Loverly Broadway Return in My Fair Lady
Laura Benanti takes on the central role of Eliza Doolittle in Lincoln Center Theater's acclaimed staging of My Fair Lady beginning on October 23, replacing original cast member Lauren Ambrose, who played her final performance on October 21. Benanti is scheduled to play a limited run through February 17, 2019.

Benanti is a Tony winner for Gypsy who was most recently seen on Broadway in Meteor Shower. Her other main-stem credits include Tony-nominated turns in She Loves Me, Women on the Verge of a Nervous Breakdown, Swing! and Into the Woods.

Benanti joins a cast that also includes Harry Hadden-Paton as Henry Higgins, Allan Corduner as Colonel Pickering, Linda Mugleston as Mrs. Pearce, Clarke Thorell as Zoltan Karparthy, Jordan Donica as Freddy Eynsford-Hill, Rosemary Harris as Mrs. Higgins and Norbert Leo Butz as Alfred P. Doolittle. As previously announced, Danny Burstein will replace Butz on January 6, 2019. Beginning on October 30, Kerstin Anderson will play the role of Eliza Doolittle at all Tuesday evening performances.

The company also includes Cameron Adams, Shereen Ahmed, Barbara Jo Bednarczuk, Heather Botts, Rebecca Eichenberger, SuEllen Estey, Christopher Faison, Steven Trumon Gray, Adam Grupper, Michael Halling, Joe Hart, Todd A. Horman, Sasha Hutchings, Mary Claire ...
---
School's In! The Prom Arrives on Broadway
You're invited! The highly anticipated new musical comedy The Prom begins preview performances at the Longacre Theatre on October 23. The Prom will celebrate an official opening night on November 15.

In The Prom, when Broadway's brassiest stars get word that a student is unceremoniously sidelined from a small-town Indiana prom—and that the press is involved—they gear up to save the day. Featuring a book by Chad Beguelin and Bob Martin, music by Matthew Sklar and lyrics by Beguelin, The Prom is based on an original concept by Jack Viertel. Casey Nicholaw is the musical's director and choreographer.

The talent-packed principal cast includes Tony winner Beth Leavel, Tony nominees Christopher Sieber and Brooks Ashmanskas, Caitlin Kinnunen, Angie Schworer, Courtenay Collins, Josh Lamon, Michael Potts and Isabelle McCalla. The ensemble will feature Courtney Balan, David Josefsberg, Mary Antonini, Josh Franklin, Teddy Toye, Kate Marilley, Drew Redington, Gabi Campo, Jerusha Cavazos, Shelby Finnie, Fernell Hogan, Joomin Hwang, Sheldon Henry, Becca Lee, Wayne Mackins, Anthony Norman, Jack Sippel, Kalyn West and Brittany Zeinstra.

The Prom features scenic design by Scott Pask, costume design by Ann Roth and Matthew Pachtman, lighting design by Natasha Katz, sound design by Brian Ronan, orchestrations by Larry Hochman ...
---
Raise a Glass! See Jez Butterworth & the Cast of The Ferryman Gather Round the Broadway.com Portrait Booth
Jez Butterworth's Olivier-winning play The Ferryman opened on Broadway on October 21. The acclaimed production tells the story of the Carney family and the mysterious visitor that interrupts their annual harvest celebration. The company celebrated the show's opening night at New York's Edison Ballroom. Check out our exclusive photos of The Ferryman's stage family below, and be sure to see the gripping play at the Bernard B. Jacobs Theatre.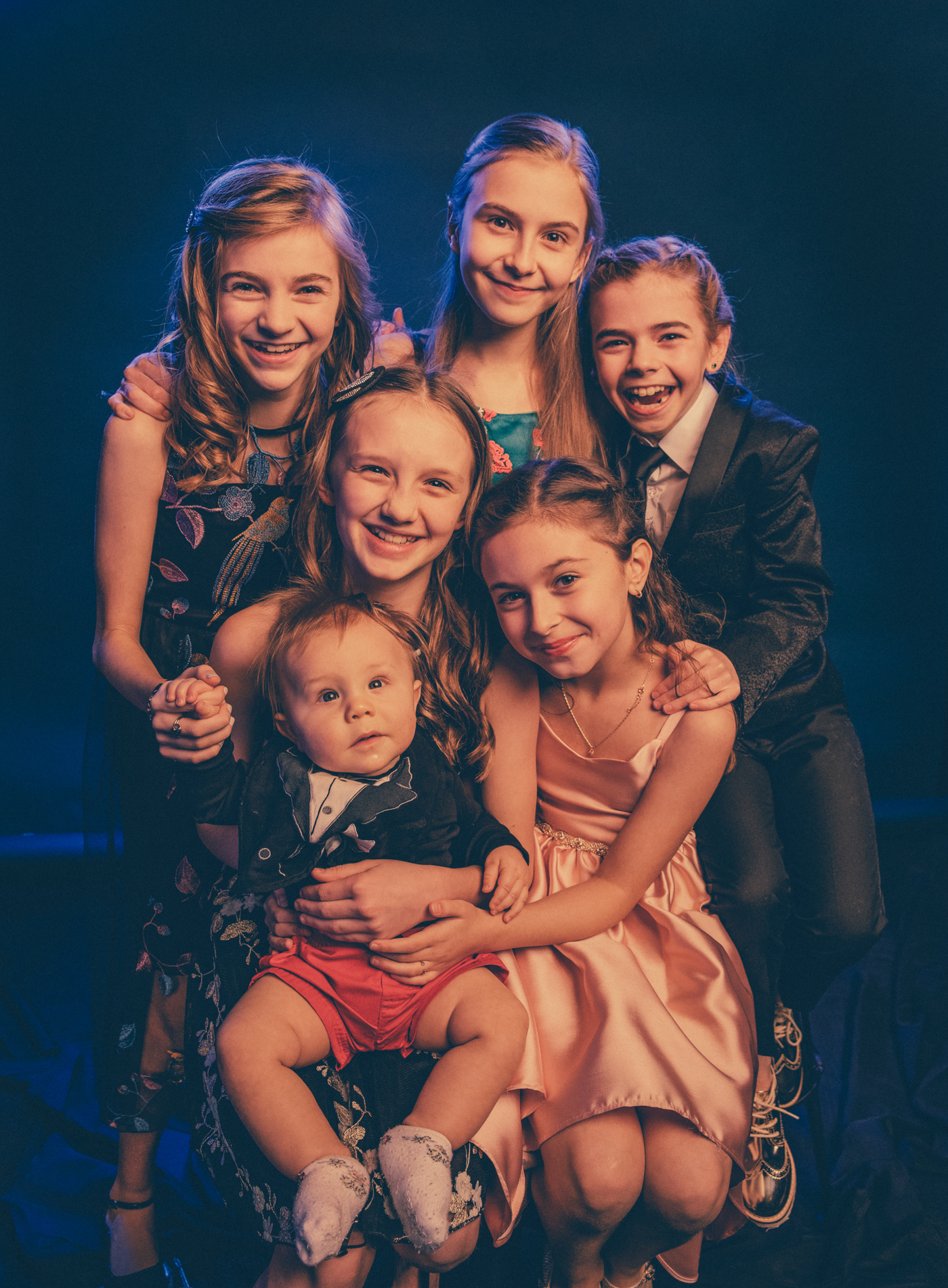 ---
Odds & Ends: Matthew Broderick Cast in Netflix Comedy Daybreak & More
Here's a quick roundup of stories you might have missed today and this weekend.

Matthew Broderick Cast in Netflix Comedy Daybreak
Matthew Broderick has booked a sweet new TV gig. The two-time Tony winner will appear in the company of Daybreak, a 10-episode Netflix series based on Brian Ralph's graphic novel of the same name, according to The Hollywood Reporter. The series follows a high school outcast searching for his missing girlfriend in a post-apocalyptic California town. Broderick will take on the role of the school's principal. Daybreak will mark the first series-regular role for Broderick, who took home Tony Awards for Brighton Beach Memoirs and How to Succeed in Business Without Really Trying.

George Abud & More Set for Johnny & the Devil's Box Concert
A talented group of stars have signed on to appear in a return concert engagement of Johnny & the Devil's Box, a Broadway-aimed folk musical written by Douglas Waterbury-Tieman (Desperate Measures). The concert will be held at Rockwood Music Hall Stage 2 on November 18 at 7:00pm. The event will feature performances by Waterbury-Tieman along with George Abud (The Band's Visit, The Resistible Rise of Arturo UI), Julie Foldesi (Sunday in the Park ...
---
Everybody Cut, Everybody Cut! Jeremy Kushnier & Jennifer Laura Thompson Reunite 20 Years After Footloose
Twenty years ago, they were the hottest thing in denim. When Jeremy Kushnier and Jennifer Laura Thompson took to the stage of the Richard Rodgers Theatre on opening night of Footloose on October 22, 1998, they were not only making their Broadway debuts, they were ushering in a new wave of musicals based on popular popcorn movies.

These days, the stars have graduated to parent roles—he as stubborn King Basilius in Head Over Heels, she as grieving Cynthia Murphy in Dear Evan Hansen—and have built healthy stage careers.
"We're still kicking it," Thompson said, when Broadway.com brought the pair back together for a reunion photo and video shoot, wearing her original red cowboy boots from the show. "I'm proud to say."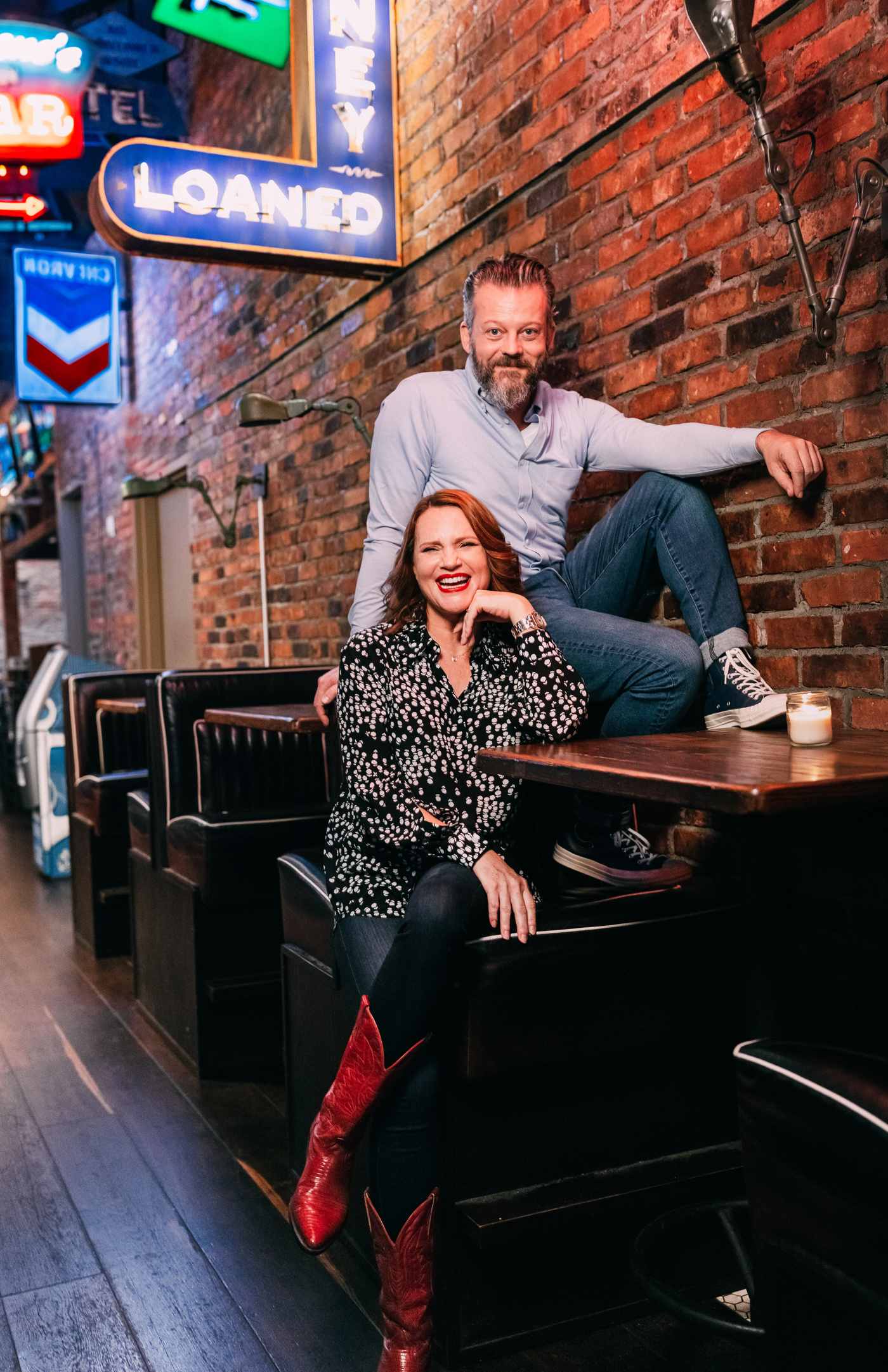 ---
When they were cast in the stage adaptation of the hit 1984 movie Footloose, Thompson was coming off a national tour of the acclaimed Lincoln Center Theatre Carousel, playing Julie Jordan, and Kushnier was literally just off the bus from Canada…with nowhere to stay.

"After the first day of the audition, I told [casting director] Barry Moss that I was going home," ...
---
Broadway Grosses: Audiences Can't Get Enough of Daniel Radcliffe, Cherry Jones & Bobby Cannavale; That's a Fact
This past week, Broadway crowds were treated to the opening of a world premiere play led by a trio of beloved stars. Daniel Radcliffe, Cherry Jones and Bobby Cannavale star in The Lifespan of a Fact, a raved-about new work which has theatergoers packing in to Studio 54. In the week of opening, even while accommodating first-night press, the show's gross went up to $808,088.00, with attendance also growing to 93.30%. The Lifespan of a Fact plays Broadway for a limited engagement through January 13, 2019, so now couldn't be a better time to make plans to see the new work for yourself.

Here's a look at who was on top—and who was not—for the week ending October 21.

FRONTRUNNERS (By Gross)
1. Hamilton ($3,248,164.00)
2. Springsteen on Broadway ($2,414,700.00)*
3. The Lion King ($2,216,979.00)
4. Harry Potter and the Cursed Child ($2,090,857.00)
5. Wicked ($1,704,955.00)

UNDERDOGS (By Gross)
5. The Waverly Gallery ($393,429.50)
4. The Play That Goes Wrong ($322,549.16)
3. Torch Song ($258,729.60)
2. Head Over Heels ($251 ...
---
This Week's #LiveAtFive Guests Include a Two-Time Tony Nominee, a Hogwarts Student & More!
Broadway.com #LiveatFive is a daily news show on Facebook Live, in which Broadway.com editors discuss what's going on in the theater community and chat with stage stars about their current and upcoming projects.
Get to know the guests who will appear on #LiveatFive during the week of October 22.
October 22 - Lorna Luft, Feinstein's/54 Below Solo Show - To L and Back
Lorna Luft is a singer, actor, author and Emmy Award winner who is gearing up for her solo show, To L and Back at Feinstein's/54 Below. Luft made her Broadway debut with her mother in Judy Garland: At Home at the Palace when she was 15 years old. She went on to appear in Promises, Promise on Broadway and has been touring with both American and British productions of Irving Berlin's White Christmas. Luft co-executive produced the Life with Judy Garland miniseries, which was based on her bestselling memoir, Me and My Shadow, and earned five Emmy awards. She is also known for her screen career, which includes fan favorites Grease 2 and Murder, She Wrote. Be sure to watch #LiveAtFive on Monday, October 22 to hear all about her career and what to expect from ...
---
Adam Chanler-Berat & Jane Kaczmarek to Lead Lindsey Ferrentino's World Premiere The Year to Come at La Jolla
Casting is complete for the world premiere staging of The Year to Come, a new work by Lindsey Ferrentino (Ugly Lies the Bone) appearing at San Diego's La Jolla Playhouse this winter. Anne Kaufman (Marvin's Room) has signed on to direct the previously announced production, set to begin previews on December 4 in advance of an opening scheduled for December 9.

The cast will feature Adam Chanler-Berat (recently announced for the 2019 world premiere Nantucket Sleigh Ride) as Jim, seven-time Emmy nominee Jane Kaczmarek (Malcolm in the Middle) as Estelle, Pomme Koch (The Band's Visit) as Sinan, Marcia DeBonis (Small Mouth Sounds) as Pam, Jenna Dioguardi (The Wolves) as Abigail, Jonathan Nichols (Grey's Anatomy) as Frank, Ray Anthony Thomas (Glengarry Glen Ross) as Joe and Peter Van Wagner (Othello) as Pop Pop.

The Year to Come centers on a family who gathers every New Year's Eve in their Florida backyard to ring in the coming year. In between dips in the pool, politically incorrect banter and a highly anticipated onion dip, their relationships grow and fracture.

The creative team will include scenic designer Christopher Acebo, costume designer Dede Ayite, lighting designer Lap Chi Chu and sound designer Brandon Wolcott. The ...
---
Stars Step Out to Celebrate the Opening Night of The Ferryman on Broadway
Jez Butterworth's acclaimed drama The Ferryman opened at Broadway's Jacobs Theatre on October 21. Laura Donnelly, Paddy Considine and Genevieve O'Reilly lead the large ensemble cast with direction by Sam Mendes. Stars of both the stage and screen stepped out in honor of this Oliver-winning play officially arriving on Broadway. Check out the photos and be sure to go see The Ferryman for yourself.
---
Kristin Chenoweth, Idina Menzel & Ariana Grande Join Stars Past and Present in Wicked Anniversary Special
The hit musical Wicked is about to celebrate 15 years on Broadway. To celebrate the milestone, the show will air A Very Wicked Halloween, an hour-long special, hosted by original Broadway stars Idina Menzel and Kristin Chenoweth. The star-studded telecast promises performances from Ariana Grande, Pentatonix, Adam Lambert and Ledisi. Current Wicked stars, Jessica Vosk and Amanda Jane Cooper, will also join Menzel and Chenoweth alongside past Glindas and Elphies, including Kara Lindsay, Lilli Cooper, Jackie Burns, Jennifer Laura Thompson and more. Check out the photos from the special's taping below, and make sure to tune in to A Very Wicked Halloween October 29 at 10PM on NBC.
---
The Broadway.com Show: Laura Donnelly and the Cast of The FerrymanCelebrate Opening Night on Broadway
Hit the red carpet with Jez Butterworth, Laura Donnelly and the cast of The Ferryman on opening night.
---
The Fans Have Spoken! Your Top 10 Best Broadway Halloween Costumes of 2018
It's October 22, which means fans have just about a week to prep their Halloween costumes. Need some inspiration? Want to put a Broadway spin on your ensemble for the big night? We asked the fans (as we do every year!) which character from current Great White Way productions will make the best Halloween costume this year. Check out the top 10 list below for some beloved classics and fresh ideas!
10. Alexander Hamilton, Hamilton

9. Lola, Kinky Boots

8. Elder Price, The Book of Mormon

7. Anya, Anastasia

6. Jenna Hutcherson, Waitress

5. Regina George, Mean Girls

4. Elsa, Frozen

3. Evan Hansen, Dear Evan Hansen

2. The Phantom, The Phantom of the Opera

1. Elphaba, Wicked

---
Michael James Leslie Replaces James Monroe Iglehart in Kennedy Center's Little Shop of Horrors
Broadway alum Michael James Leslie has stepped in to voice the role of man-eating plant Audrey II in the Kennedy Center's upcoming staging of Little Shop of Horrors. Leslie replaces the previously announced Tony winner James Monroe Iglehart, who has exited the production due to unforeseen circumstances not related to the production. The musical will run for seven performances from October 24-28.

Leslie is an alum of the 2003 Broadway-premiere production of Little Shop, during which he understudied the role of Audrey II, later voicing the role full-time on a 2004 national tour. Leslie was most recently seen onstage as Judge Turpin in the acclaimed off-Broadway "pie-shop" staging of Sweeney Todd.

The cast of The Kennedy Center's Little Shop will also include Josh Radnor as Seymour, Tony nominee Megan Hilty as Audrey, Tony nominee Nick Cordero as Orin Scrivello D.D.S., Amber Iman as Crystal, Amma Osei as Ronnette, Allison Semmes as Chiffon and Tony nominee Lee Wilkof, who played Seymour in the original 1982 production, as Mr. Mushnik.

With book and lyrics by Howard Ashman and music by Alan Menken, Little Shop of Horrors is based on the 1960s cult horror film about meek floral assistant Seymour Krelborn ...
---
Music Video: Fiddler on the Roof Tour Star Jesse Weil Sings 'Miracle of Miracles'
Fiddler on the Roof's Jesse Weil sings "Miracle of Miracles" from the national tour of the beloved musical.
---
Here's to the Harvest! Watch Clips from Jez Butterworth's The Ferryman
After an acclaimed run in London, Jez Butterworth's The Ferryman is now playing on Broadway.
---
Angels in America Alum Amanda Lawrence Cast in National Theatre's Top Girls
Casting is complete for the upcoming West End staging of Caryl Churchill's wildly innovative 1982 play Top Girls, appearing for the first time at the National Theatre. Lyndsey Turner will direct the previously announced production, slated to begin previews on March 26, 2019 ahead of an April 3 opening night.

The ensemble cast will include three-time Olivier nominee Katherine Kingsley (Piaf) as Marlene, Amanda Lawrence (recently seen on Broadway in Angels in America) as Pope Joan, Liv Hill (Jellyfish) as Angie, Wendy Kweh (The Bill) as Lady Nijo, Ashley McGuire (Murphy's Law) as Dull Gret, Ashna Rabheru (Indian Summers) as Kit and Siobhan Redmond (Twelfth Night) as Isabella Bird, with further casting to be announced.

Top Girls follows Marlene (Kingsley), the first woman to head the Top Girls employment agency—but she has no plans to stop there. With a spirit of optimism consuming the country, Marlene knows that the future belongs to women like her.

The production will feature set design by Ian MacNeil, costume design by Merle Hensel, lighting design by Jack Knowles and sound design by Christopher Shutt. Performances are currently scheduled to run through April 22.

Top Girls first debuted in a 1982 production at the Royal ...
---
Broadway Balances America Welcomes You to the Rock with Come From Away
Broadway Across America's Telly Award-winning collaboration with The Balancing Act, the award-winning morning show on the Lifetime Channel, continues season five of the five-part series Broadway Balances America with Come From Away. This new episode will re-air on October 30 at 7:30AM (ET/PT). The touring production of Come From Away is traveling to cities all across the U.S. and Canada.

During this segment, Broadway Balances America explores the remarkable true story of 7,000 stranded airline passengers and the small town in Newfoundland that welcomed them in the days following September 11, 2001, through the lens of the award-winning musical Come From Away. Learn how creators Irene Sankoff and David Hein and producer Sue Frost compiled 16,000 stories from this five-day period and ended up with an uplifting 100-minute musical featuring an ensemble of 12 actors. Meet American Airlines Captain Beverley Bass, whose flight was grounded in Gander, and Becky Gulsvig, who portrays Bass' character on tour. Experience an up-close look at the people who continue to share the story of a tragedy that changed the world and how one small town came together and created community—instilling hope in all who bear witness to it ...
---
Broadway-Bound Musical Be More Chill Is Also Being Made into a Movie
Months ahead of its Broadway premiere, Be More Chill, the new musical which recently concluded a sold-out off-Broadway run at the Pershing Square Signature Center, has been announced to receive a film adaptation, according to Deadline. Berlanti Productions and 21 Laps have been selected as producers on the big-screen version of the cheered tuner.

Based on the novel by Ned Vizzini and adapted for the stage by Joe Tracz (book) and Joe Iconis (score), Be More Chill is the story of Jeremy Heere, your average, nothing-special teenager at Middleborough High in nothing-special New Jersey. That is, until the day he finds out about "The Squip." Thus begins a journey that pits Jeremy's desire to be popular against his struggle to remain true to his authentic self.

Be More Chill was originally commissioned and produced by Two River Theater in Red Bank, New Jersey in 2015. Broadway previews are scheduled to begin at the Lyceum Theatre on February 13, 2019 ahead of a March 10 opening night.

A timeline and further details on the screen version of Be More Chill will be announced at a later time. Till then, check out clips from the off-Broadway production below.




---
Jez Butterworth's Olivier-Winning Drama The Ferryman Opens on the Great White Way
The Ferryman, a wildly popular new play by Tony nominee Jez Butterworth, opens at Broadway's Bernard B. Jacobs Theatre on October 21. Olivier winner Sam Mendes directs the production, a transfer of his Olivier-winning London premiere staging. Broadway previews began on October 2.

The Ferryman takes place in the early '80s in Northern Ireland, where the Carney farmhouse is prepping for the annual harvest and a celebratory feast. This year, however, the festivities are halted by an unexpected visitor.

The cast includes Olivier winner Laura Donnelly, Paddy Considine, Genevieve O'Reilly, Dean Ashton, Glynis Bell, Gina Costigan, Charles Dale, Justin Edwards, Fra Fee, Fionnula Flanagan, Tom Glynn-Carney, Stuart Graham, Mark Lambert, Carla Langley, Conor MacNeill, Colin McPhillamy, Rob Malone, Dearbhla Molloy, Glenn Speers, Niall Wright, Audrey Bennett, Peter Bradbury, Trevor Harrison Braun, Will Coombs, Carly Gold, Holly Gould, Matilda Lawler, Michael McArthur, Bella May Mordus, Griffin Osbourne and Brooklyn Shuck.

To celebrate opening night, Broadway.com Resident Artist Justin "Squigs" Robertson sketched a portrait showing the play's 30-plus-cast of characters unfolding a new drama for Broadway audiences.




About the Artist: With a desire to celebrate the magic of live theater and those who create it, and with a deep reverence for such ...
---
World Premiere Musical Fall Springs Set for Barrington Stage Company's 25th Anniversary Season
Pittsfield, Massachusetts' Barrington Stage Company has announced a trio of productions set to comprise its 25th anniversary season. A new staging of a beloved tuner, a world premiere musical and a prequel to a Shakespeare classic will appear at the Berkshires venue in the summer of 2019.

Kicking off the season will be a new production of Stephen Sondheim and James Lapine's award-winning hit Into the Woods. Joe Calarco will direct the musical retelling of classic fairy tales, which will feature the original orchestrations of Jonathan Tunick.

The centerpiece of Barrington's season will be Fall Springs, a world premiere musical with music and lyrics by Niko Tsakalakos (Pool Boy) and a book and lyrics by Peter Sinn Nachtrieb (Boom). The show follows the town of Fall Springs, which is cash-strapped but sits directly on top of America's largest reserve of cosmetic essential oils. It has big dreams, but at what cost? With new fracking techniques being recklessly implemented, the ground beneath Fall Springs is crumbling. The musical will be directed by Stephen Brackett (Be More Chill).

Concluding the season will be the new play Gertrude and Claudius, written by Mark St. Germain (Dancing Lessons). Based on the novel by John Updike ...